Email this page to friends
Network and Vulnerability Management
Top Features
Highly refined compliance reports on key security events of your network
Often there is some confusion among users as to which event reports are needed for meeting the requirements of different compliance acts.
Centralized event logging
Event logs are constantly and automatically generated by a user or by an automatic or background process. Logs are often stored in disparate locations.
Analysis of event logs including SNMP traps, Windows event logs, W3C logs, SQL Server and Oracle audit logs and Syslog
As a network administrator, you have experienced the cryptic and voluminous logs that make log analysis a daunting process.
Powerful dashboard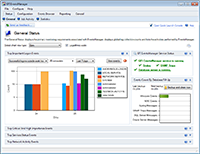 The GFI EventsManager dashboard includes a number of filtering-enabled charts to provide administrators with fast and easy access to the data they need as they go about their day.
One-click rule and filter creation
You can create processing rules and filters for Windows events by simply right-clicking on event details in the Events Browser Tool.
Real-time alerts, SNMPv2 traps alerting included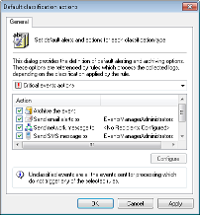 GFI EventsManager has improved alert level for key events or intrusions that are detected on the network.
Detection of Windows events that refer to administrators
GFI EventsManager can detect if a Windows event refers a user who is an administrator user, a feature that is required by certain regulations.
GFI LanGuard and GFI EndPointSecurity data integration
GFI EventsManager offers a compelling view about the security status of your network and delivers better compliance reports by integrating key information provided by GFI LanGuard and GFI EndPointSecurity. This information refers to vulnerabilities, unauthorized applications, removable device usage and many more.
Auto update
GFI EventsManager users can now benefit from the latest product patches and updates in a very easy and straightforward manner, thanks to the solution's auto-update feature.
Certified for Windows Server 2008; supports Windows 7
GFI EventsManager has achieved 'Certified for Windows Server 2008 and Windows Server 2008 R2' status and can be installed on, and collect events from Windows 7, Vista and 2008.
GFI EventsManager audit for Windows
GFI EventsManager offers an audit system for Windows machines.
Support for processing IBM iSeries (former AS/400) logs
GFI EventsManager can process logs generated by IBM iSeries systems through third party tools which are able to collect IBM iSeries (former AS/400) logs from the IBM servers and send those logs to GFI EventsManager in Syslog format.
Anonymization of personal data inside events
GFI EventsManager can help companies achieve compliance with specific regulations through the anonymization of personal data (i.e., user names and computer information that point to specific users) found in logs.
Computer discovery and domain synchronization
It is possible to configure GFI EventsManager by automatically detecting computers from the network or by automatically synchronizing computer groups with computers from domains.
Support for new devices
Managing SNMP trap for myriad devices requires the ability to understand the language each manufacturer uses to define events.
SQL Server auditing
GFI EventsManager supports SQL server auditing for all commercial and free versions of SQL Server including 2000, 2005, 2008, MSDE and SQL Express.
Oracle audit support
Many companies use Oracle database servers and the activity on these servers need to be monitored for security or regulatory compliance purposes. GFI EventsManager can process Oracle audit records for versions 9i, 10g, and 11g.
Translates cryptic Windows events
Cryptic logs make log analysis a painful and lengthy process. GFI EventsManager translates those event descriptions to clear, concise explanations and suggestions for action.
High performance scanning engine
GFI EventsManager incorporates a totally redesigned event scanning engine that is fine-tuned for maximum scanning performance.
Collect events data distributed over a WAN into one central database
You can collect events data from GFI EventsManager installations on multiple sites and locations across your network into one central database using the Database Operations functionality.

Improved! Create custom reports through exporting events into customizable HTML files
GFI EventsManager can export events from the event browsers into HTML and PDF formats, based on templates which can be customized.
Rule-based event log management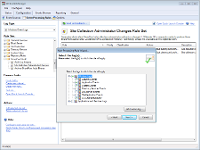 GFI EventsManager ships with a pre-configured set of log processing rules that allow you to filter and classify events that satisfy particular conditions.
Advanced event filtering features
GFI EventsManager's powerful filtering sifts through recorded event logs allowing you to browse without deleting any records from your database backend.
Event log scanning profiles
Scanning profiles allow you to configure the set of event log monitoring rules that will be applied to a specific computer or to a group of computers.

Ensures compliancy with PCI DSS and other regulations
Data logging is key to meeting the requirements of different compliance regulations.
Support for virtual environments
Organizations that are currently using or plan to use virtualization on their network can still install and use a range of GFI products with confidence.



Other features:
Scan custom text logs based on regular expressions
HP Digital Sender support to easily fax paper documents
Remove "noise" or trivial events that make up a large ratio of all security events
Real-time 24 x 7 x 365 day monitoring and alerting
Report scheduling and automated distribution via email
For more information about GFI EventsManager,
please contact our Sales Representative at 2556 2162, or email at sales@ppn.com.hk.
Copyright © 2020 Pacific Professional Network. All rights reserved.